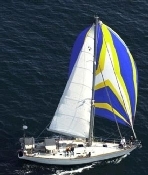 Journal 18; Puerto Rico to St. Maarten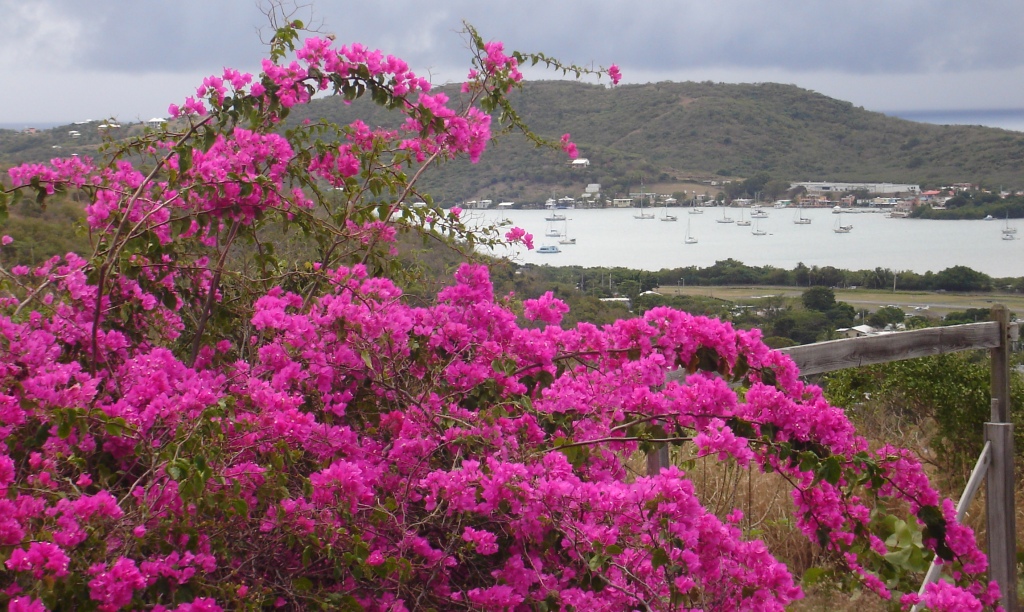 January 29 - March 22, 2009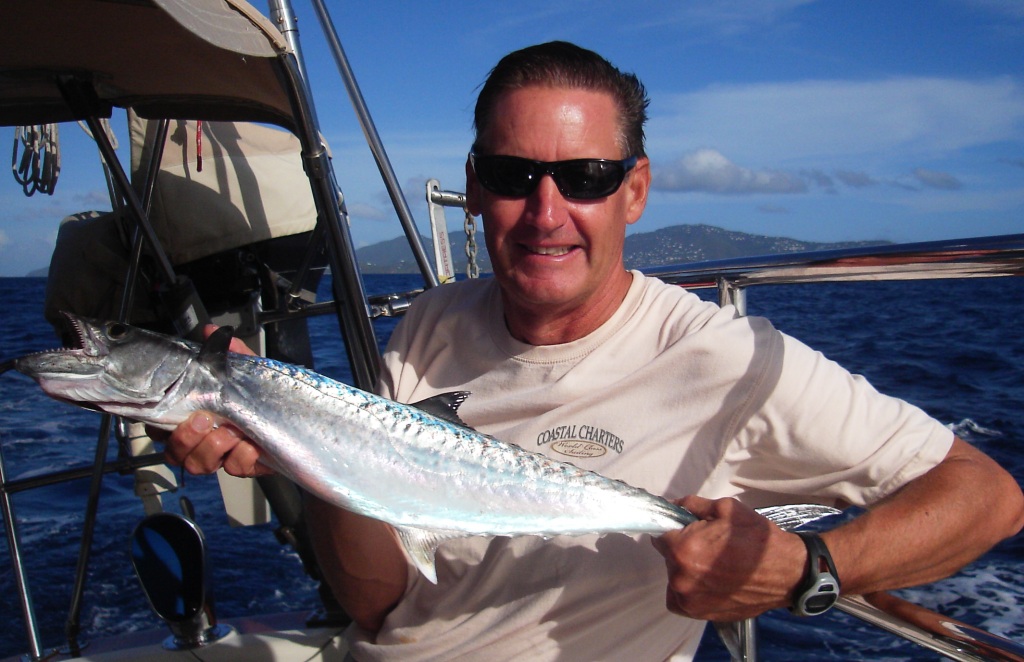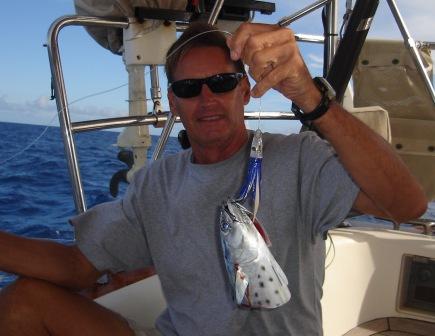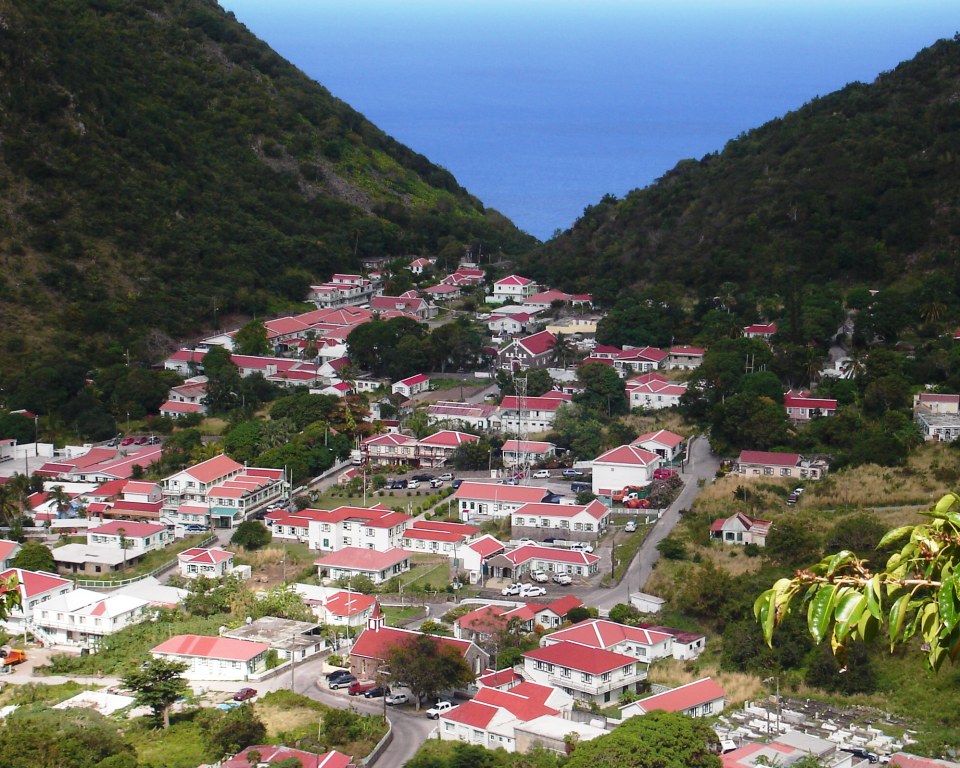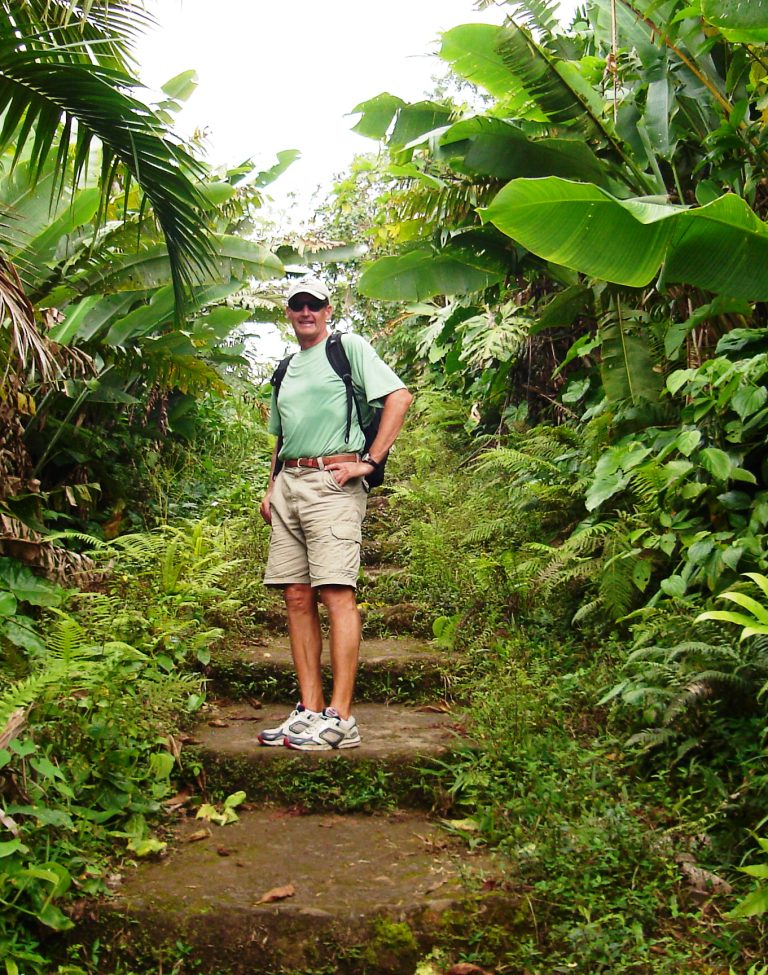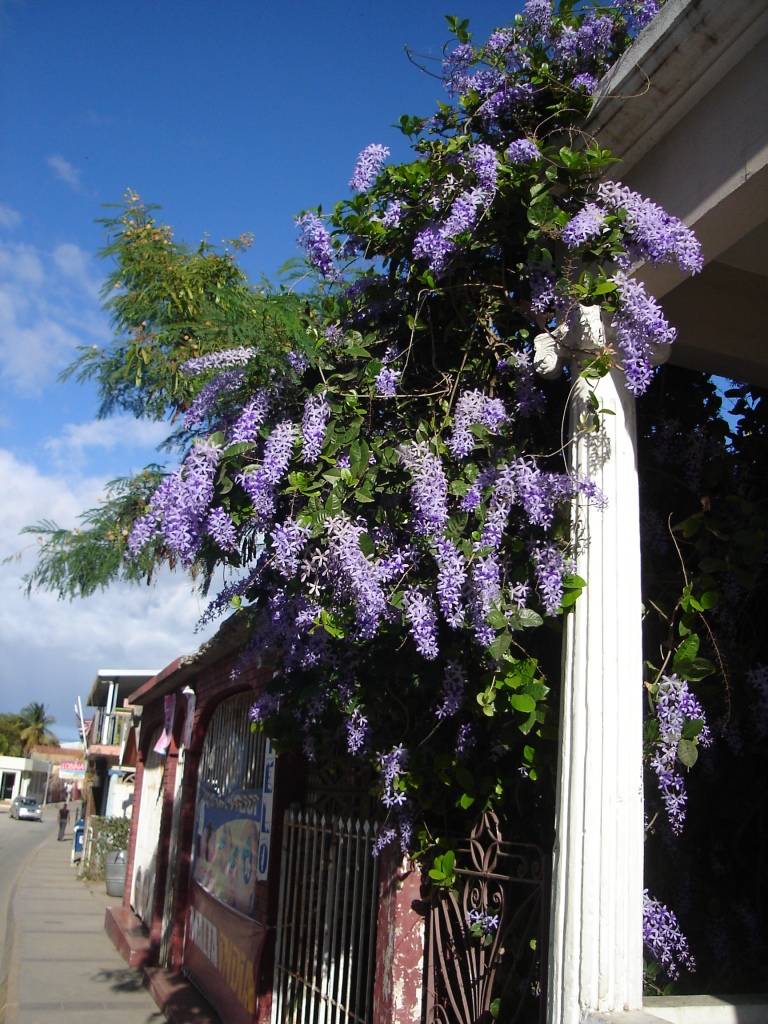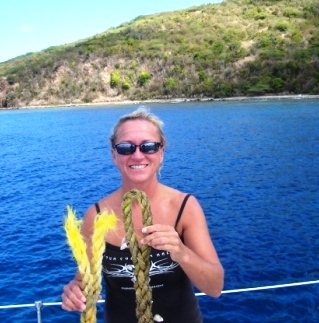 Since our January journal entry, we found ourselves with three weeks to spend until our special order at West Marine was to arrive. So, what to do?

We spent the first two weeks in the Spanish Virgin Islands installing parts. There was also plenty of time for reading and snorkeling since our island hopping eastward only required a small portion of our days. We made our way east through the islands and finally re-visited the Island of Culebrita (see journal entry #12) as a jump off point to Charlotte Amalie, St. Thomas, US Virgin Islands (USVI).

Sailing east with prevailing easterly winds is not an easy chore for a sail boat. Since we cannot sail directly into wind, we must sail a few degrees off the wind and zigzag (tack) our way forward. Therefore a 15 mile trip becomes a 35 mile journey with the required tacking into the wind.

The whole purpose of sailing to St. Thomas (besides killing time waiting for parts) was for JoDon to shop for a dress for my son's (Nathan) wedding. Even though there is still no wedding date set, you can't be too soon to get something so important taken care of ASAP! HA!
Finished with St. Thomas we had a most pleasant downwind (westerly) sail back to Culebra. Since we had to struggle for every mile going east, we decided to anchor at Culebra, Puerto Rico and take the 1 ½ hour ferry ride (US$2.25 each way) westward to Fajardo, PR to pick up our parts.

Our time at Dewey was extended because a West Marine clerk botched one of our orders and never ordered our parts. West Marine rushed the parts in (at their expense) and we then caught the 6:30 am ferry to Puerto Rico. Well, that was the plan. Apparently there were too few
We had low expectations for St. Thomas because there are so many tourists that arrive via cruise ships. The day we arrive St. Thomas there were five massive cruise ships at port. You really do not understand how big those cruise ships are until you are in the water looking up at them. Long story short, we really liked St. Thomas with good, and easy, provisioning and most importantly, we found The Dress.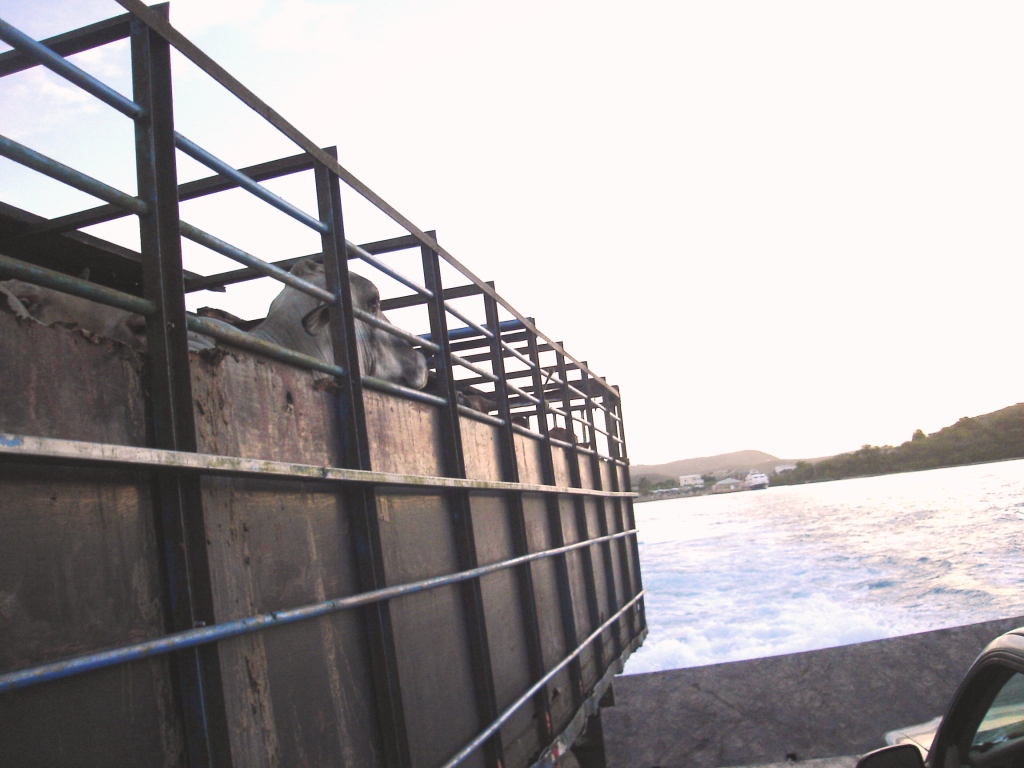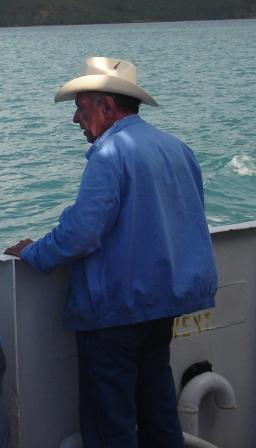 passengers so the 6:30 am passenger ferry was cancelled and everyone was put on the 7 am car ferry. On that morning there was a cattle truck on the ferry loaded with Brahmas going to market. It was certainly unusual being at sea with cattle and as JoDon's father (the dairyman) says, "It smelled like money!"

After a full day of shopping in Fajardo, we caught the late afternoon ferry back to Culebra. Meanwhile the weather had changed and a ship's steward handed our barf bags to all the passengers. The wind was really blowing and the seas were quite large and nasty. Our ferry was tossed around and we were sure glad not to be in El Regalo in that mess.
Valentine's Day started with cards that we each had somehow managed enough time away from the other to purchase along the way. JoDon got that dog she's been wanting, well sort of. Then we had a nice easy sail around Culebra to a marine park anchorage on the northeast coast where we picked up a mooring ball. Most parks prefer that you use their moorings so that your anchor does not dig up the seabed. When we returned from snorkeling the first afternoon we dove on the mooring line to make sure it was strong, and it appeared to be OK. We spent the night attached to the mooring ball with no problems. On the second day after snorkeling, JoDon was topside sunning (AKA, drying off) and suddenly we drifted away from our mooring ball! JoDon shouted, "Brian, start the motor!" I had no idea what had happened but I started the motor none the less. The mooring line had chafed and broke loose, setting El Regalo adrift. As the expression goes, "The good Lord takes care of fools and drunks" and we were certainly blessed that the mooring line did not break off in the middle of the night and us end up on the Puerto Rico reef or shoreline.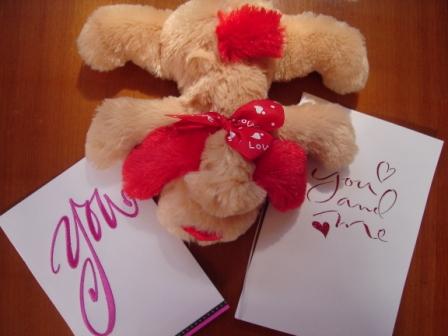 After a week of waiting for settled weather we left Dewey, Culebra to St. Thomas. Again, against the wind, but our spell of not catching an edible fish was broken (we don't include barracuda as edible). Despite the seas were fairly rough, we caught a large Spanish mackerel, a small Mahi and a Big Eye tuna. Big Eye tuna is sushi quality. We had grilled Big Eye that night (excellent) and sushi for lunch the following day + half of the remaining tuna in the freezer.

After a brief provisioning and clothes washing in St. Thomas, we moved on to St. John's, USVI. At one time most of St. John's was owned by the Rockefeller family but they donated it to become a national park. We enjoyed the natural beauty so much that our one night planned trip became two nights. We also enjoyed another Spanish mackerel caught en route to St. John's.
On Saturday, February 28th we cast off for Saba (SAY-ba) a tiny Dutch island only two miles long. The sailing the first day was with light winds; boring. We planned the trip conservatively and thought we would arrive at Saba mid-day the following day, Sunday. After very slow sailing the first day we were one day behind our 1 day schedule. But the winds really picked up at night and we made up for much lost time. While crossing the Saba Bank we had high hopes for catching some fish. We did catch one Spanish mackerel but a shark bit off most of it when I was reeling in the hand line. Instead of fish filets we had fish head soup for dinner, still mighty good!
The villages of Saba, "The Bottom" and "Windwardside" are very quaint and impeccably clean. Dutch is the official language but everyone speaks English as their primary language. As in most countries throughout North America, Spanish is filtering its way into Saba, also. We met some workers from the Dominican Republic and Columbia who found their way to this tiny island. A driver of a small school bus gave us a lift up the mountain (all Saba roads are steep inclines) to The Bottom and he explained that most students go to Holland for their college courses.

We were proud that we hiked from The Bottom to Windwardside and then to the top of Mt. Scenery (3000' tall). The hike to Mt. Scenery was classified as 'strenuous' with 1062 steps. It was every bit of the description and when at the top we did not have any scenery to look at because we were amongst the clouds.

On March 9th we had an easy sail from Saba to St. Maarten, about 30 nautical miles. St. Maarten is a very unusual island that is occupied by both the Dutch and the French. There is a borderline dividing the island but the borders are open. To enter the Simpson Bay Lagoon there are two entrances that pass under draw bridges. We were entering the south entrance, the Dutch side, and there were about 50 boats awaiting the trice daily bridge opening. We were arriving during their annual regatta and many boats had been out that day participating. When the bridge opened there was a push of about 40 boats lining up to pass under the bridge. El Regalo was only a few feet behind the boat in front and there was another boat a few feet behind us. Suddenly there was an emergency vehicle and the bridge closed. That caused all the boats to suddenly be put in full reverse causing total mayhem. As we finally passed though the bridge there was a throng of regatta participants on a bar balcony whopping and hollering almost close enough to touch the boat.

Ensenada Honda, Culebra
Saba is part of the Dutch West Indies and is very unique. Saba was founded by Dutch and ex-pirates from Jamaica. They had to be very hardy and resourceful people to survive on this rock. Until the early 1960's there was no port so any freight brought into Saba was put on small row boats and brought in through a rough surf. Also, there were no roads connecting the few small villages in Saba. Dutch engineers declared it impossible to build a road to connect the towns in such steep and inhospitable terrain. But, the head of the Saba Public Works disagreed and in the 1940's he took correspondence classes for road building. He built "The road that could not be built" using farmers with wheel barrels to complete the massive project and there are many tributes to him that demonstrates Saban resourcefulness.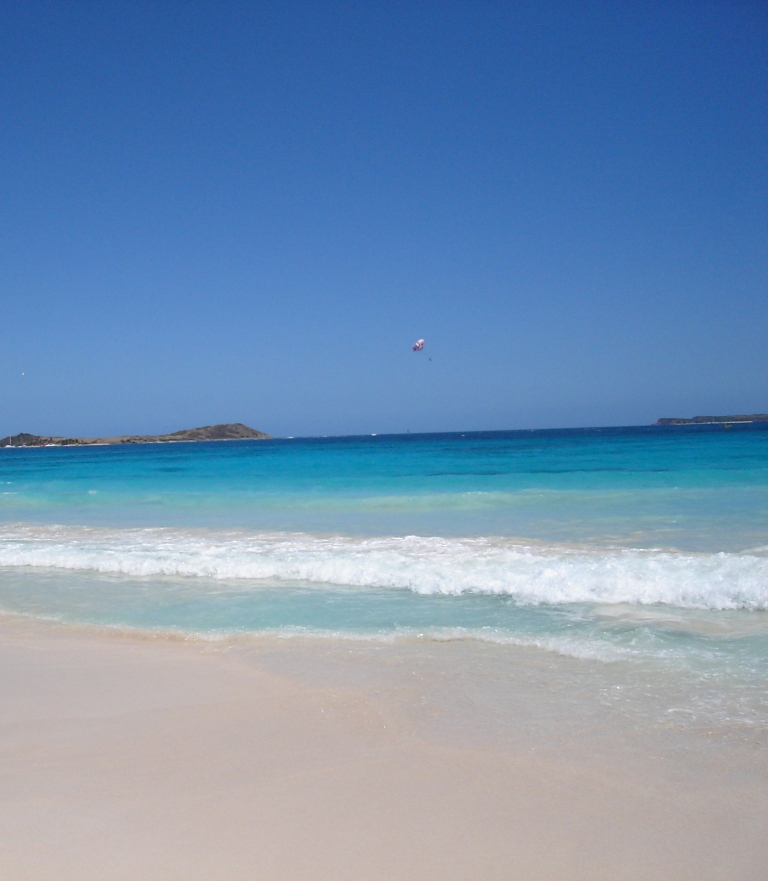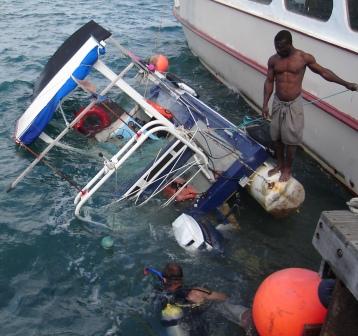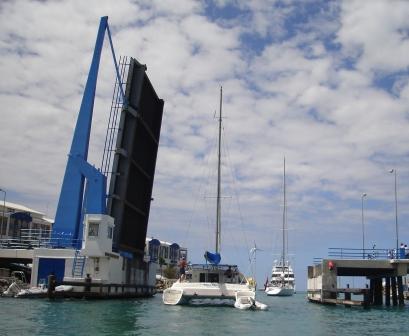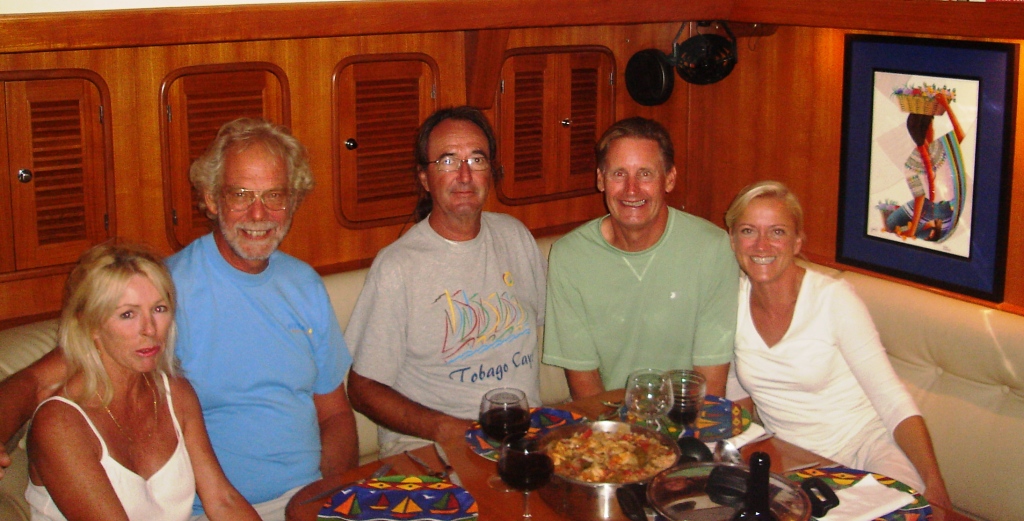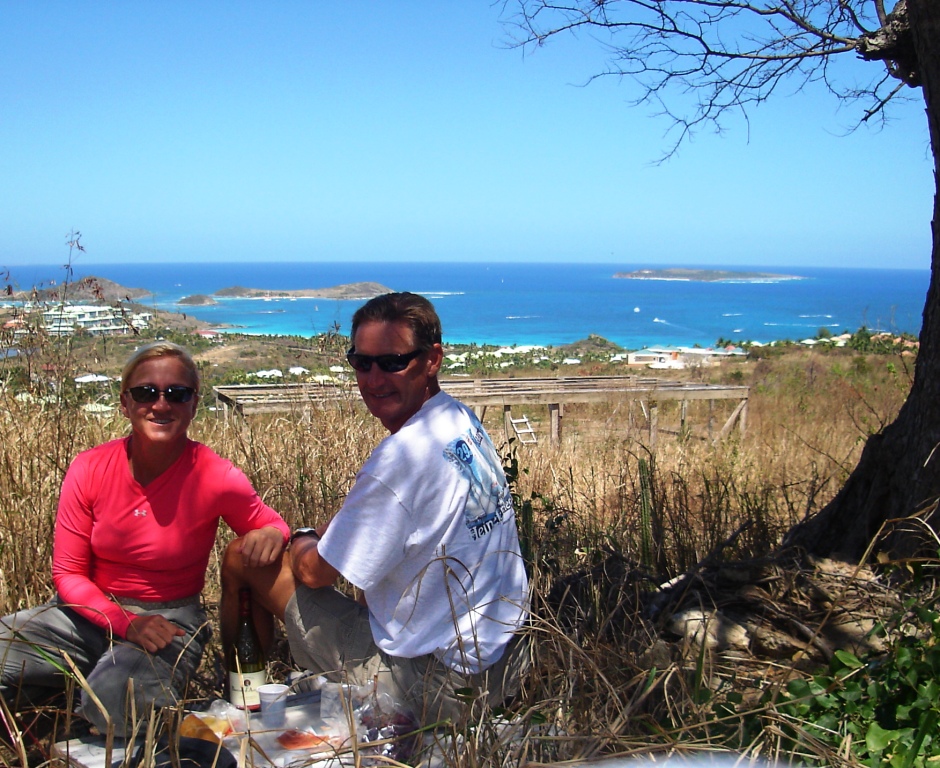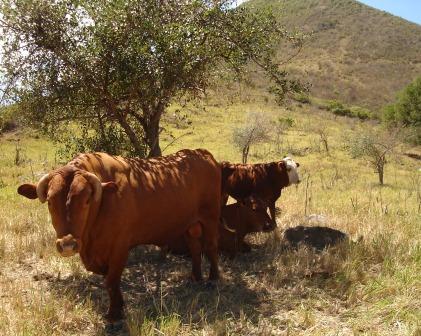 Two consecutive winter storms hit St. Maarten after we arrived (this was planned) and the morning temperature plummeted to 73°F. Ha! Actually the wind was quite strong and it encouraged us to stay on the boat rather than venture out too much for the first few days.

Like Saba, the Dutch side is a little strange. The primary language is English and store prices can be confusing. Store prices are usually quoted in Netherlands Antilles (NA) guilders, which exchanges for about 1.8 x 1 US dollar. But some prices are in US dollars so you're never too sure if you're getting a great deal or getting screwed. One store solved this by installing price scanning machines throughout the stores so you can check the prices as you shop (like Target stores) but the quotations are in Euros, US dollars & NA guilders (you pick which is relevant). What we find most strange is that we have not yet seen a NA Guilder used, in Saba or St. Maarten, so why bother?

The French side is classic French West Indies; good & cheap wine, great bread & strong coffee. Instead of just deciding which store to shop in, we get to first choose which country to shop in, then which store. The shopping is excellent on both sides, but each specializes in different areas. The convenience stores are controlled by Chinese. India descendants control other shops including duty free alcohol and jewelry. Haitians do most of the construction jobs and Dominicans do everything else.

There is always the excitement of exploring new territory when arriving at a new anchorage, but something we've come to find equally enjoyable is searching each new anchorage for friends we've made previously. St. Maarten is a special treat as there are 10 boats of friends. One evening we had special dinner guests aboard El Regalo: Christine and Guy, s/v Princess of Tides & Steve, s/v Certitude. It was an enjoyable evening and memorable for most of us.
Seeing this boat sinking forced us to be very grateful for our ship and the many blessings of this life. Fortunately there was a diver who was able to insert balloons under the boat and prevent the total loss of this small pleasure craft.
While exploring St. Maarten we rode a bus to Orient Bay on the French side. As with European beaches there were many topless women sun bathing. Some were knock-outs but others would have benefited from more fabric. Unfortunately there were also several older, very overweight men who thought a G-string bathing suit was just right for them. The beach was beautiful and we also enjoyed the view from our picnic stop while just beginning the climb over the mountain.

Life is still treating us well and it's time to move on to the remote and secluded island of Barbuda. We are expecting another winter system to bring us NE winds for our SE route. We hope it all works out!

Fair winds to all,

Brian and JoDon